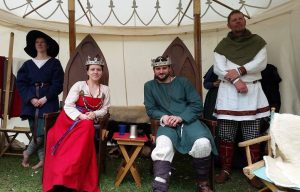 Welcome
Welcome to the Barony of Krae Glas, the south-east region of Melbourne, Australia group of the Society for Creative Anachronism (SCA). Take a trip back in time to the middle ages, where we recreate the customs, costumes, and combat of the pre-17th century era.
The scope of the Society is broad, encompassing costuming, cooking, music, dancing, armouring, brewing, calligraphy and illumination, woodwork, embroidery, and any of arts and sciences from the Middle Ages. We make weapons and armour, we learn the techniques to use them and we compete in tournaments, including armoured combat, fencing, archery and equestrian. We hold feasts where there is food, dancing, singing and merriment.
We hope you find the information here useful and we look forward to seeing you at our next event. We welcome all newcomers, of diverse ages and backgrounds, to the Society.
For an idea of what the SCA is all about, read a newcomer to Krae Glas's story, or visit www.scademo.com.
Location
The SCA is a world-wide organization. The Kingdom of Lochac (Australia and New Zealand) is divided into 12 Baronies, of which the Barony of Krae Glas represents the South Eastern suburbs of Melbourne.
The Barony of Krae Glas has within her lands College of St Monica (Monash University), and Hamlet of Groenaholar (West Gippsland).
For central and western Melbourne, see Barony of Stormhold.
(Not sure which group is closest to you? Use the Kingdom of Lochac group guide)
Keep up to date
Join our active Barony of Krae Glas facebook group
See our upcoming activities and events page