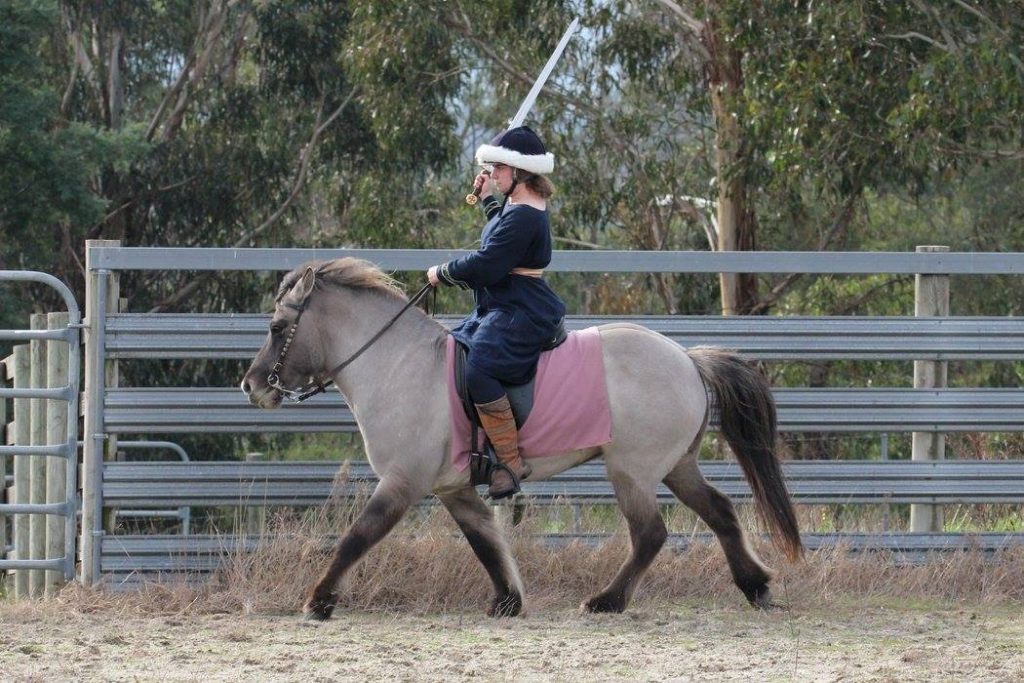 Horses played a major part in the Middle Ages, and that role is not forgotten in the SCA! In SCA Equestrian Activities we practice the games of skill that squires and other mounted warriors would have learned in the medieval period. There are many different areas that you can participate in equestrian within the Barony, and you don't have to own a horse or be a rider to be involved.
Equestrian activities include:
General Riding

General Riding
Processions (or leading an unauthorized rider during a procession)

Driving (harness). Driving is using harness and a cart/gig/chariot.

Driven games with the passenger controlling weapons, driver controlling the horse.
Driving or harness work to offer transportation solutions both people and/or gear.

Mounted Games (Non-Contact)

Rings
Heads
Quintain
Spear throwing – pig sticking/tent pegging

Mounted Games (Contact) – two types, light and heavy

Combat (heavy) – full body shots (human) using armour and weapon specifications as per the society equestrian handbook. No thrusting is permitted. Note that this is NOT SCA heavy armoured combat.

Crest Combat (light) – only valid target is the crest – using weapons as per specifications in the society equestrian handbook.

Mounted Archery

A person with this authorization must be able to handle the bow safely while on the horse – the rider must ensure the horse is happy with the noise and action of a bow prior to competition.
Must be able to display ability to control horse during competition when reins may not be available.
How can I take part?
We are fortunate to have an active equestrian community in the Barony of Krae Glas. Many of our equestrian activities are held within our Hamlet of Grœnahólar (West Gippsland). We recommend you join the Hamlet of Grœnahólar facebook group and introduce yourself – we are a friendly crew!
Resources