The Greek god Apollo embodies many virtues that form the strengths of our community. As he steers the sun across the clear blue skies, so the light touches and inspires all that he sees. With his arrows, he protects and defends the realm, joining his forces in battle. When he slew the python at Delphi, he granted those there the powers of wisdom and foresight, so they could guide their community with clear vision. A healer, he strengthens each individual and raises those who would be Champions to follow in his footsteps.
Champions emerge from all aspects of our community. All people, regardless of age, experience and prowess can reveal themselves as Champions.
The Champion's role is to inspire others to participate and give their all in their respective field. The role of Champion is not limited to prowess; it incorporates all virtues, including humility, courage, agility, strength and wisdom. You should look to your Champions as a source of inspiration in your activities in the Barony.
---
Arts & Sciences champion: Lady Isaelfr Hilditonn Heilvesdottir
Ísælfr hilditǫnn Heilvésdóttir (Katie Dawson) has been in the SCA for over a decade, participating in A&S since day one, but also dabbling here and there in heavy fighting, archery and equestrian. Ísælfr became the Barony of Krae Glas Arts & Sciences Champion after sourcing Icelandic sheep wool, dyeing it with woad, indigo and madder, and spinning and weaving a period fabric which was then sewn up into a Viking apron dress, complete with hand made accessories. She is a crafty individual with a philosophy of never wishing to be able to do something – she just sets about finding out how to do it and dives right in. As a result, Ísælfr has had a go at nearly everything, but has found the textile arts to be her primary focus. Ísælfr's advice to anyone wishing to get involved in A&S is never to be afraid to try something new. Have a go. It doesn't matter how the first attempt turns out – you can always try something else – but you never know where a hidden talent may lurk!
---
Archery: Lord Thorgrim Dvergr, Elder of the Hamlet of Grœnahólar
Lord Thorgim Dvergr started in the SCA in about 1997. I started late in the SCA in the now defunct Canton of Bryn-a-Mor (Gippsland), the first major event I attended was festival in 1999. I was as a member of the Stormhold Trebuchet Crew and our Baron and Baroness were Rudolph von der Drau and Nicolette Dufay. I have been a combat archer and heavy fighter, enjoy the arts and sciences, meeting people, and lending a hand where it may be needed. I have served on the royal household of Gilbert and Bethony. I enjoy shooting a bow, which I do with my daughter. I also like to do woodwork, leatherwork and metal work. Recently I have built a small forge for myself.
Just have a go at what ever you are interested in , it doesn't matter if it doesn't turn out well . just try again and enjoy what your doing .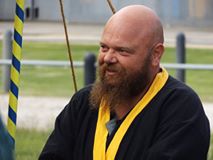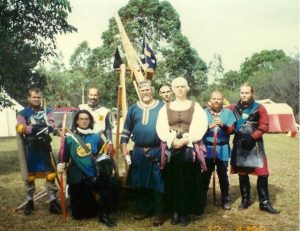 Stormhold Trebuchet Crew (~1998)
---
Fencing: Lord Seumas Mac Thorsteyn of the Black Dolphin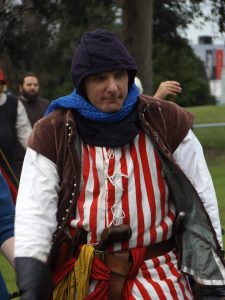 ---
Armoured combat: Baron Master Cormac Lenihan
---
Equestrian: Lady Eliza de Horsley (and Belle the Horse)