General enquiries can be directed to the group Chatelaine.
---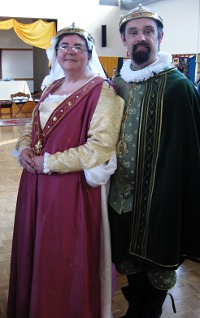 Baron and Baroness of Krae Glas
Baron Cormac Lenihan
and Baroness Elspeth Caerwent
(C o n r a d   a n d   C a t h y   L e v i s t o n)
The baron and baroness administer the lands and people of Krae Glas on behalf of the king and queen of Lochac. They ensure that Krae Glas contributes to the nobility of Lochac, and recognize good work within Krae Glas, be it martial, in the arts and sciences, or in service.
Email: Baron and Baroness

Seneschal

Gwir verch Madog
(S u e B a r z d a – R y a n)

Email: Seneschal

As in medieval times, the Seneschal is the head of the group who handles the day to day affairs and manages the other Officers. A mundane equivilent is President.

Reeve

Everard Sefar

Email: Reeve

The Reeve handles the financial aspects of the group, including maintaining the books and bank accounts. The mundane equivalent is a Treasurer.

Chronicler

Veronica Bellini
(M o n i c a J a m e s)
Email: Chronicler

The Chronicler records the history of the Barony and distributes it for the known world to read.

Chatelaine (Envoy to Mundania)

Leif Magnusson
(M a t t   C u r r a n)
Ph: 0400 669 459
Email: Envoy

The Envoy to Mundania maintains friendly relations with Mundania, a key trading partner of the Kingdom of Lochac.

Marshal

Gib
(D a v i d  H u r s t)
PH:0432 948 508
Email: Marshal

The Marshal is responsible for encouraging Martial activities within the group. They ensure that fighters are safe on the field and inspect and authorise new fighters. They coordinate Heavy, Rapier, Combat Archery and Target Archery.

Group Rapier Marshal

Siegfried Zoder
Email: Rapier

Coordinates and encourages rapier combat within the group.

Captain of Archers

Position Vacant – please contact the Seneschal if interested
(VACANT)
Ph:
Email: Captain of Archers

Coordinates and encourages all forms of Archery within the group.

Arts and Sciences

Veronica Bellini
(M o n i c a J a m e s)
Email: Arts and Sciences

Encourages the pursuit of any arts and sciences through classes, workshops, informal gatherings and competitions.

Herald

Miguel de Santiago
(M a t t A r m s t r o n g)
Email: Herald

Coordinates the running of Heraldric activities for the group, including registration of names and devices, performing voice heraldry during events such as court, and on the field during tournaments.

Constable

Theophilus Balsamon
(E s t e l T a l r o v a l)
Email: Constable

Responsible for site and event safety, indemnities/waivers and lost property.

Web Minister

Position Vacant – please contact the Seneschal if interested

Email: Vacant

Maintains the groups internet presence. This includes social networking sites, the mailing list and the main website. They also assist with moderation of these forums, form policy and create and maintain content for the site.
If you are interested in assisting with running Krae Glas, or want to know more about what an Officer does, then please contact the Seneschal so we can register your interest
Mailing lists
The Common is a mailing list for event, meeting, and training notices as well as discussion of topics of interest, for the SCA populace of Victoria, regardless of which SCA Group they reside within.
Krae Glas' mail list can been found here
Shambles is the Lochac (Australian) mailing list.
If you are interested in a particular guild or topic they also offer their own specialised mailing lists. A list of current mailing lists and how to subscribe can be found on the main Lochac SCA website, located here.
Email reminders
Email reminders are sent to the Krae Glas and St. Monica mailing lists and The Common based on these calendars. This is administered by Paul de la Ville. Contact Paul if there are any problems with this system.